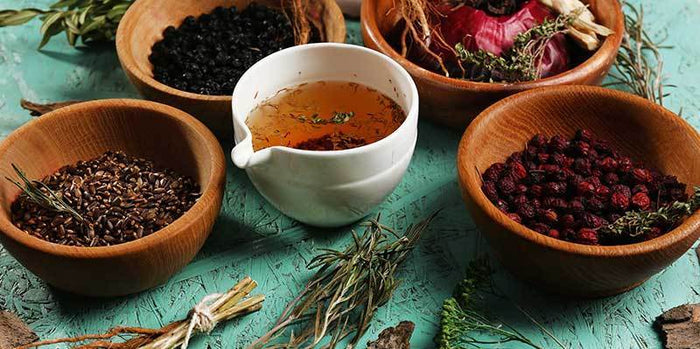 We care deeply about your joint health and mobility. This means we spend a lot of time thinking about, researching, and discussing the best ways to achieve and maintain flexible, mobile, and healthy joints.
If you browse our blog you'll see a range of articles on topics such as How to Use a Tennis Ball for Sore Muscle Relief, How Exercise Benefits Whole Body Health, What is DOMS?, and Spice Things Up with Curcumin and Turmeric.
Each of these articles touches on a different aspect and approach to healthy joints, supportive muscles, and balanced life. These articles and the rest of the information on our website are all part of our commitment to providing you with a balanced and well-rounded information base on joint health, mobility, and living a balanced life.
And this is why we published this article about Traditional Chinese Medicine (TCM) and joint health. TCM is gaining more popularity and we've been receiving a lot of questions about TCM at trade shows, conferences, and other consumer events.
In this article we explain what TCM is and how it can be used to treat joint discomfort or pain. However, we want you to remember that we are not experts or proponents of TCM. Before undertaking any new type of treatment for your arthritis or sore joints, you must discuss this with your doctor. Remember, health is wealth – so take care to make the right decisions for your whole-body health.
What is Traditional Chinese Medicine?
Traditional Chinese Medicine (TCM) is an ancient system and approach to achieving health and wellness. This approach to healing the body has been used in China for thousands of years.
The difference between TCM and western medicine is in the approach to treating illness and healing the body. TCM considers every aspect of your body, environment, and energy when creating a treatment plan. Western medicine looks at the area of the body that is unwell, injured or diseased and focuses on treating the exact problem.
There are two central themes or ideas that guide TCM practitioners:
Qi: is life energy or vital energy. TCM experts believe that Qi runs through your body and it's always moving and changing. Many TCM treatments focus on how to keep the flow of Qi in your body active and flowing.
Yin and Yang: these two opposites explain the key qualities of Qi. Yin is hot, light, feminine, day, and hollow. Yang is cold, heavy, masculine, night, and solid. To have optimum health you need to have a balance between the yin and yang of Qi. If one is out of balance, you can become sick.
Ultimately, TCM is centered around creating harmony between yin and yang, thereby allowing the healthy flow of Qi through-out your body.
TCM uses different treatment practices to deal with injury, illness, and pain:
Acupuncture: many physiotherapists, massage therapist, and other medical practitioners also use this treatment methodology. Very fine needles are placed carefully in your skin to help alleviate tightness, stress, and to calm various body systems.
Cupping: you may have seen photos of athletes with big circular bruises on their skin. This is from cupping – the practice of placing heated suction cups on the skin.
Herbs: various herbs, plants, flowers are combined to create teas, tinctures, and powders.
Meditation: more and more people are understanding how important the mind is in alleviating pain and managing illness. TCM uses meditation to help calm your mind, allowing your Qi to flow more freely and easily.
Moxibustion: dried herbs might be burned near your skin to stimulate the flow of Qi in your body.
Tai Chi: this martial art is characterized by slow controlled movements. These movements help strengthen your muscles, maintain flexible joints, and to calm the mind.
How is Traditional Chinese Medicine Use to Treat Joint Discomfort?
The Traditional Chinese Medicine practices of acupuncture, cupping, herbs, meditation, moxibustion, and Tai Chi can be used together or in isolation to treat joint discomfort or pain.
In TCM, practitioners believe that joint pain such as that of arthritis are caused by a blockage that prevents the smooth flow of Qi through-out your body. Because this blockage is associated with the bones, it is called Bone Bi. Bone Bi is a blockage that impacts the bones and joints.
Within TCM, the belief is that the cause of Bone Bi is environmental. Specifically, the wind, cold, and dampness can penetrate your bones, muscles, tendons, and joints – causing pain, reduced mobility, and stiffness.
When this happens, it is not possible for Qi to flow through your body freely, maintaining the balance of yin (hot, light, feminine, day, and hollow) and yang (cold, heavy, masculine, night, and solid).
The TCM treatment for joint pain is based on the category of Bone Bi causing the problems. If you do pursue TCM treatment for your joint discomfort, ask your TCM practitioner about Wind Bi, Cold Bi, Damp Bi, and Heat Bi.
Based on the type of Bone Bi causing the joint discomfort, the TCM treatment plan will likely involve a combination of:
Acupuncture: the needles are typically inserted into the affected joints and painful areas. This stimulates blood flow and circulation, helping to relieve the blockage that is causing the discomfort, inflammation, and stiffness.
Herbs: based on the type of blockage (Cold Bi or Heat Bi), a herbal remedy is used to eliminate excessive cold or heat in the body. When this happens, the joints can move more freely, and the stiffness is typically gone.
Exercise: like western medicine, there is a strong belief and understanding within TCM of the value of exercise to alleviate joint discomfort and pain associated with arthritis. Gentle exercise such as Tai Chi, swimming, walking, stretching, and cycling are ideal.
Diet: again, like western medicine, there is a strong knowledgebase in TCM about the importance of food in healing joint discomfort. In TCM, the best diet for treating joint discomfort is connected to the blockage type. For example, if you've got a Cold Bi, you need to eat cooked foods that are warm and contain anti-inflammatory spices such as Turmeric, cayenne, and ginger.
As with any change in how you treat your joint discomfort or arthritis, it's critical you talk to your doctor first. When discussing TCM, it's a good idea to ask about your options for all-natural supplements as well.
As always, the SierraSil team is here to answer any of your questions about how SierraSil works to support joint health and calm inflammation and any other questions about SierraSil, joint health, and mobility.
About the Author
Michael Bentley, President of SierraSil Health, has twice been recognized by Optimyz magazine as one of Canada's top 100 health and wellness influencers and in 2019 was honored by the Canadian Health Food Association with the John Holtmann Industry Leadership Award. He is also a Trustee of the BC Sports Hall of Fame and past Board member of the Council for Responsible Nutrition, Family Services of BC and other non-profit organizations.